Posted by GiftedGrape.com on Dec 1st 2017
The Christmas and gift-giving season is upon us! Do you need to shop for gifts for your nearest and dearest? Or perhaps you want to decorate your home with some unique Christmas themed wine accessories. GiftedGrape.com has some fun decor that will spruce up your holiday home! Plus with automatic free shipping on orders over $45, your money will go farther!
And remember... returning customers automatically get 5% off their order , plus automatic free shipping on orders over $45! Happy shopping!
---
Reindeer Cork Cage Cork Holder
The Reindeer Cork Cage is a wine cork holder where you drop each wine cork into the back of the reindeer. The Reindeer Cork Cage has five antlers that hold tea lights adding to the Christmas holiday festivities or to brighten a winter celebration. The Reindeer Cork Cage is a fun and innovative cork holder to keep and cherish all of your wine corks as well as a wonderful candelabra. For cork collection, you can deposit corks through the opening in the reindeer's back. Cork retrieval is a snap, simply open the hinged belly hatch.Includes 5 tea lights but no corks.
Dimensions:14 1/2" x 8 3/4" x 3 1/4"
"I bought this item as a gift for my sister and her husband, both wine lovers. I expected delivery on Tuesday and it actually arrived ahead of schedule on Monday instead! They absolutely loved it, The reindeer decor matches their Christmas theme perfectly. I also liked that it is both a unique conversation starter for them and doubly functional: it (holds their cork collection and the tea light holders provide tabletop lighting. Finally, I felt the item price and shipping cost were reasonable—and, as I mentioned, the shipping was FAST!" - Thanks for the kind words Vivien!
---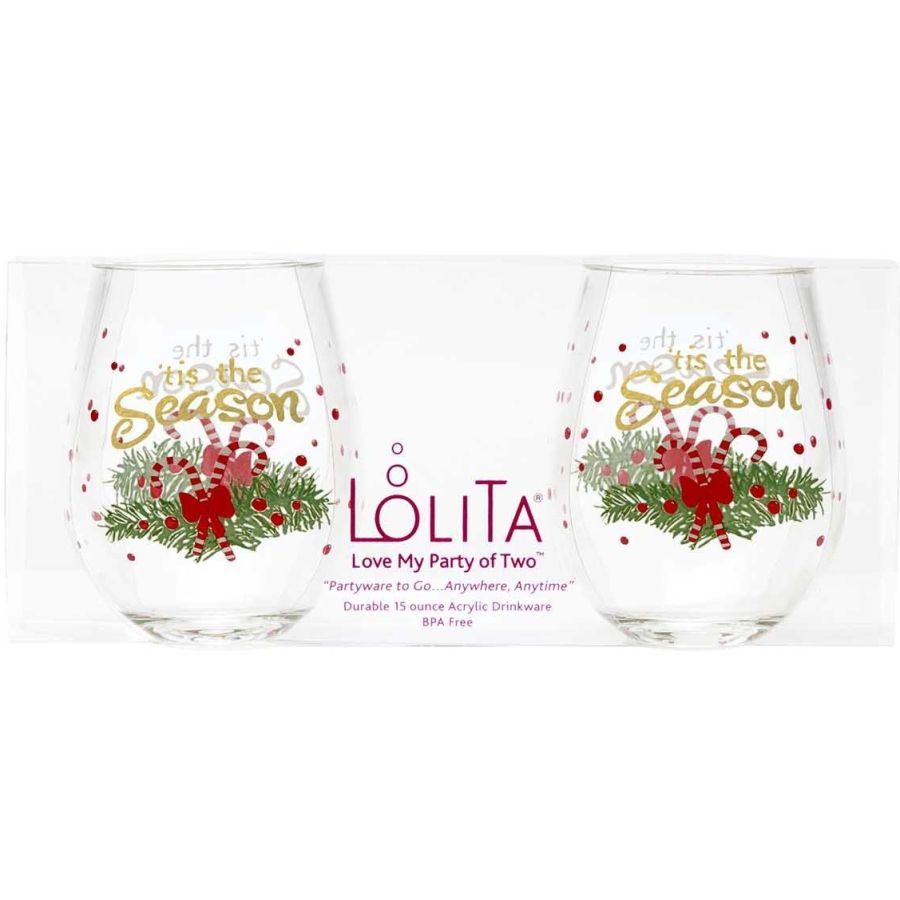 Tis the Season Acrylic Stemless Wine Glasses | Set of 2
Tis the Season Acrylic Stemless Wine Glasses | Set of 2 feature a beautiful Christmas holiday design by Lolita on the acrylic wine glasses, come in a set of two. It's the season to drink a jolly toast with this whimsical Lolita® wine glass. The Tis the Season Stemless Acrylic Wine Glasses are adorably packaged in a clear gift presentation box. The acrylic wine glasses aredurable, unbreakable and the perfect wine glass for a Holiday Christmas party. Each Tis the Season stemless acrylic wine glass is 3 1/2" x 4 1/2". Hand washing is recommended.
"They are so pretty and festive! They look like glass until you pick one up and notice that they are plastic! Love them." - Thanks Diane!
---
| | |
| --- | --- |
| Skip the milk and pour Santa some wine in this Christmas holiday wine glass. The Santa Suit Wine Glass is a holiday Santa belt wine glass with a glitter gold buckle and chalkboard belt for personalization. The Santa Suit Wine Glass is hand painted and holds 16 ounces. Hand washing is recommended. | Make your Christmas holiday festivities a little more special with the Santa Wine Bottle Stopper is a cast metal Santa bottle topper with red glass bead accent. The Santa Christmas Wine Bottle Stopper comes in a decorative acetate tube with grosgrain bow. Make your Christmas holiday festivities a little more special with this wine bottle stopper. |
---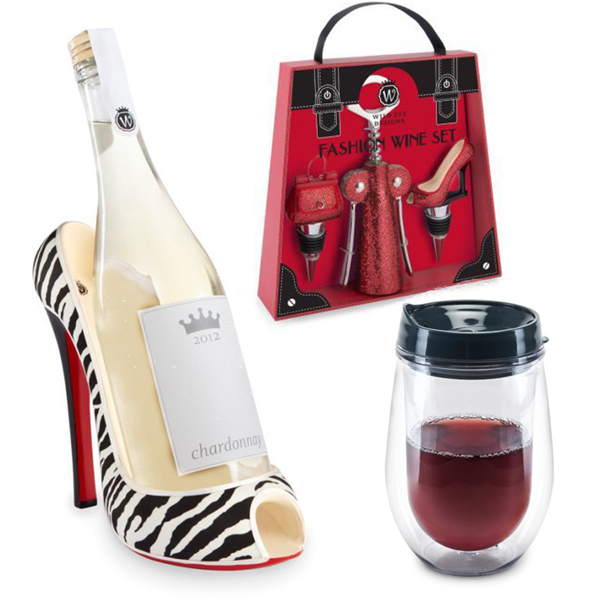 GiftedGrape.com is putting together wine accessory gift sets to help you with your holiday (or every day!) shopping. We have several sets of themed wine accessories to choose from, and we're creating more every day! Each set is affordably priced and shipped FREE. With one click you can find a selection of items that, when you add a bottle of wine or your own personal touch, becomes a clever gift that will thrill your friends!
---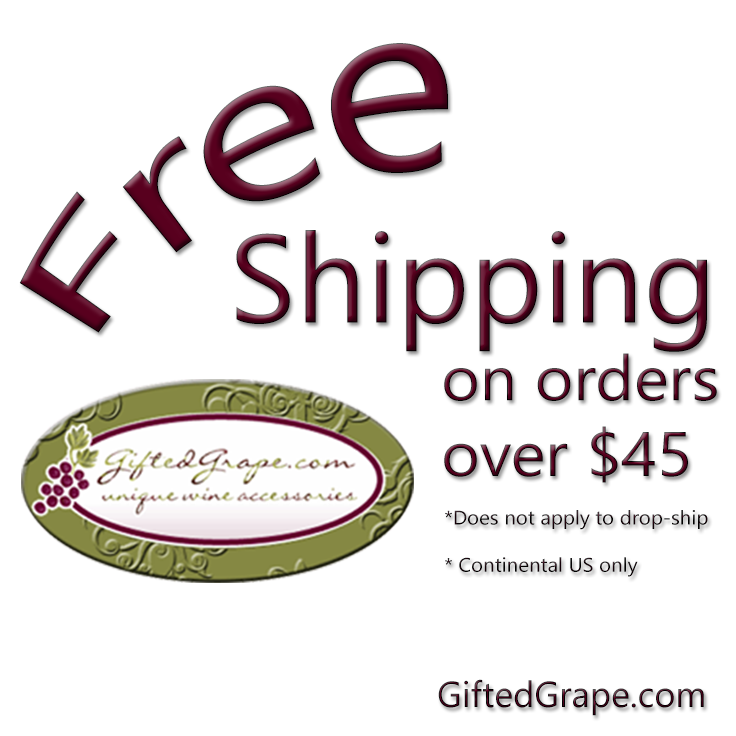 Free shipping on orders over $45 at GiftedGrape.com
Remember…
**FREE Automatic Shipping on all orders $45 and up within the continental US (excluding drop shipped items).
**Standard orders ship within 1 business day.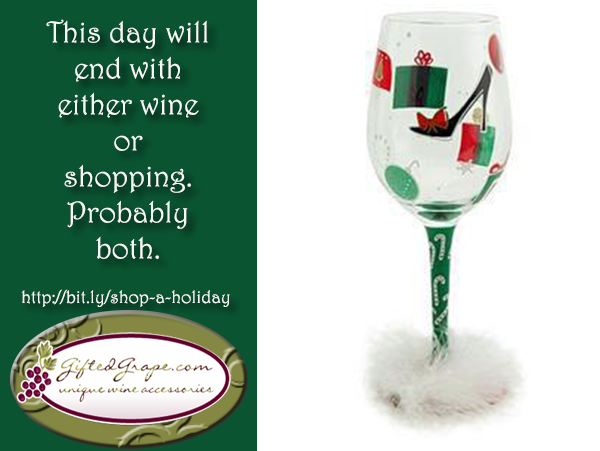 Each Shop a Holiday Wine Glass is painstakingly hand painted in lavish detail, following an original design. The Christmas colors are very bright and are oven baked to ensure durability. The wine glasses are hand-painted with food-grade non-toxic paint and must be gently hand washed and dried. The Shop a Holiday wine glass is distinctively gift boxed.
Visit GiftedGrape.com
5585 US Highway 1 N Suite 4
Vero Beach, FL 32967
Call us anytime @ 877-978-7666