Posted by GiftedGrape.com on Oct 2nd 2018
Sonoma Grapes Etched Wine Glass
Get ready for fall! GiftedGrape.com has fun wine accessories that reflect this spectacular season - keeping cozy on cool nights, changing leaves, warm woods, harvest and more. Treat yourself! Enjoy your favorite Syrah or Grenache from a Ravenscroft Invisibles Cabernet style wine glass.Stock up on some wine bottle candles to set a warm and cozy atmosphere in your home. Read on for some more ideas to set the tone for your fall wine experience!
---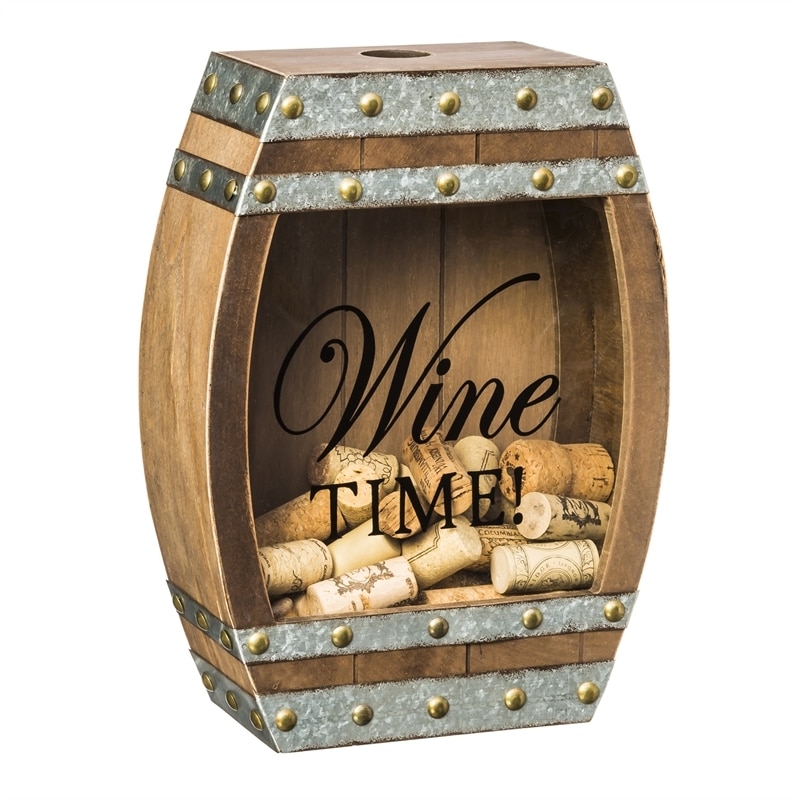 Our newest Wine Barrel Cork Holder is a miniature wine barrel with a clear window proclaiming "Wine Time!" Wine cork holders are always a fun gift from friends or a quick and fun way to swap out the seasonal decor in your home. Nothing says "fall" like the promise of a grape harvest becoming wine.
Size: 7.75" x 3.75" x 11.25"
---
Remember...
**FREE Automatic Shipping on all orders $45 and up within the continental US (excluding drop shipped items).
**Standard orders ship within 1 business day.
---
Turn a wine or Champagne bottle into an attractive oil candle with the Wine Bottle Candle and Chimney Set. This set includes a tan ceramic wine bottle oil candle with wick and a glass chimney. This is an easy and inexpensive way to add some mood lighting to your space. A 3/4 filled bottle can give up to 24 hours of candle light! Order our Paraffin Lamp Oil and empty a couple of wine bottles so you'll be ready to light your candles right out of the box!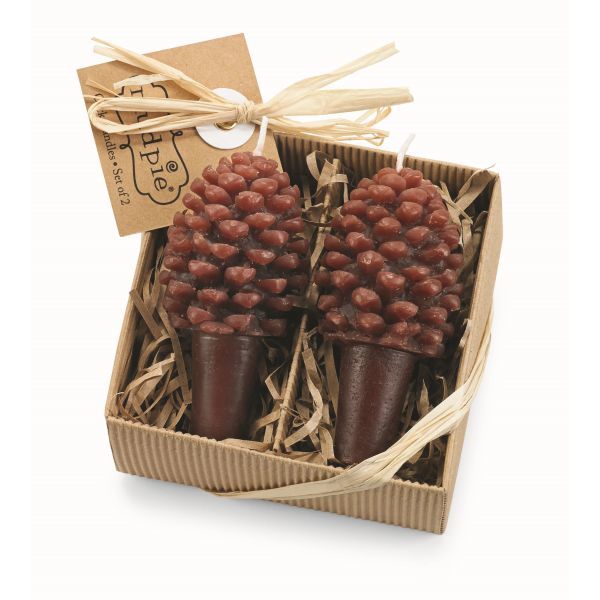 The Pine Cone Wine Bottle Candles are a set of two wax candles that use an empty wine bottle as a candle holder. Each pine cone candle with cork shaped end fits inside a wine bottle for a unique table decoration for a cabin in the woods, fall decorating or at Christmas. The burn time is 4 hours per candle. The Pine Cone Cork Candle pair comes in corrugate gift box with paper shred. Size: 3" x 1 1/2" diameter.
---
Follow GiftedGrape.com on Facebook
Come visit us on Facebook, where you'll find a coupon for 5% off your order!
---
Grapevine Place Card Holder - set of 4
Grapevine Napkin Ring set - of 4
The Grapevine Place Card Holder brings the vineyard to your table. Featuring grapevine twists for legs, these wine inspired place card holders are made of intricately sculpted metal work with a patina finish and light purple and clear glass beads entwined within the vines. Set of 4 with 12 place cards.Pairs with Grapevine Wine Napkin Ring Set.
"These are beautiful. Sturdy and yet delicate. My friends love them! I ordered four and am ordering four more!" - Grapevine Napkin Ring Set~Thanks Laura!
---
Be the first to write a review!
You'll receive a 10% discount for writing a review for one of our products after you've purchased it - look for the email from Verified Reviews after you receive your order!
---
The Fall Fabric Wine Bottle Cover is an ideal wine bottle cover to use at a fall special event or dinner party. These fabric wine bottle covers capture the beautiful autumn colors and are great to use all fall including Halloween and Thanksgiving. The Fall Fabric Wine Bottle Cover holds a wine bottle or champagne bottle. Each hand made wine bottle cover is lined with a coordinating fabric and ties in front with beautiful ribbon. The Fall Wine Bottle Cover makes an elegant presentation on a countertop or dinner table - one for each bottle of wine!
---
GiftedGrape.com Fall Wine Accessories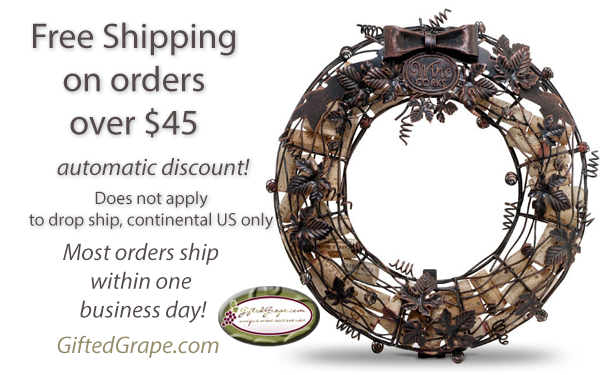 Good at https://GiftedGrape.com.
Free shipping on $45+ || Does not apply to drop ship || Continental US only