Posted by GiftedGrape.com on Aug 23rd 2018
GiftedGrape.com has products and ideas to help you enjoy your wine at the beach!
Headed to the beach this summer? Take your wine along and enjoy yourself with our fun beach-themed wine accessories. Your favorite wines will be be even more enjoyable outdoors when paired with your favorite relaxation spots!
Get started with the PortoVino Beach Wine Purse
The PortoVino Beach Wine Purse is a durable blue and white striped cotton canvas bag with elegant thick cotton rope handles. The inside has a matching stylistic solid-colored lining. There is a spacious main compartment to hold a wallet and all the necessities. A great way to keep everyone hydrated - girlfriends, husbands and kids (water/gatorade/juice of course!).
PortoVino is designed with a unique patent-pending hidden zippered insulated side-pocket with a party pouch which will hold and pour your favorite beverage. Each party pouch (recommended one-time use) acts as a reservoir with a spout to hold and pour up to 2 bottles of wine or 1.5L of your favorite beverage. The backside of the PortoVino wine purse has a stylistic button flap that when opened will provide access to the pouring spout so you can easily pour on the go.
---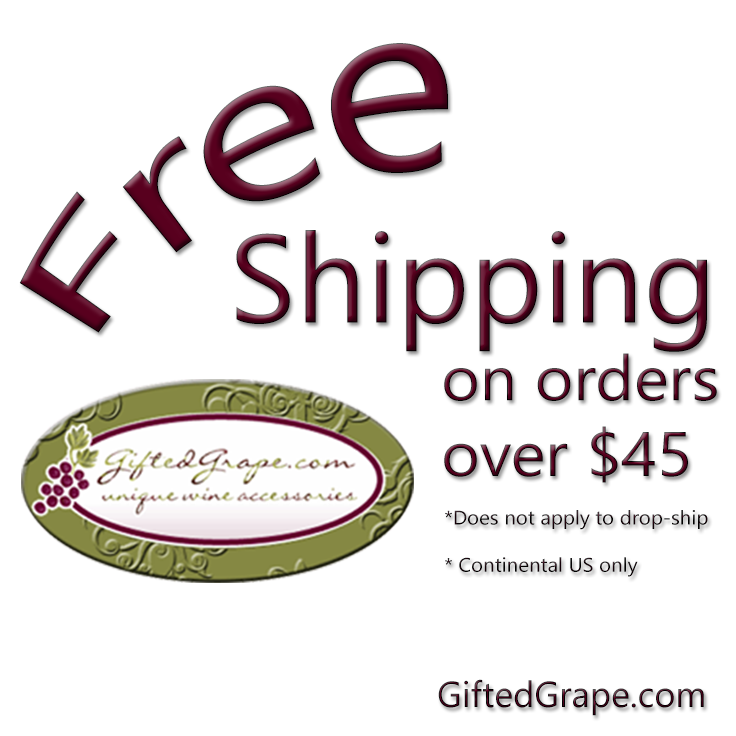 And Remember...

**FREE Shipping on all orders $45 and up within the continental US (excluding drop shipped items).
**Standard orders ship within 1 business day.
---
Picnic Stix Outdoor Wine Bottle and Wine Glass Stakes
Picnic Stix - Wine Bottle and Wine Glass Stakes
Picnic Stix are a set of 3 outdoor wine bottle and wine glass holder stakes. The handy Picnic Stix feature a stake for a wine bottle and two other matching stakes for stemmed wine glasses - all finished in chrome. Picnic Stix will make your outdoor experiences with wine much more enjoyable. These chrome picnic stakes prevent wine tipping and spilling so you can take your wine anywhere. Picnic Stix are wine stakes for picnics, barbeques, camping, at the beach and more. The wine bottle holder stake is 8" tall. The wine glass stakes (just the stakes) are 11". Great guy gift for Father's Day, a birthday or Christmas.
Megan A says "Best price online for these!"
Thanks Megan!
---
Wave Acrylic Stemless Wine Glasses | Set of 2
Catch A Wave with the Wave Acrylic Stemless Wine Glasses. This set of two acrylic wine glasses feature a cool blue ocean wave design. The Wave Stemless Acrylic Wine Glasses are packaged in a clear gift presentation box. Casual cool, by the pool, on the boat, at the beach, these acrylic wine glasses are durable, unbreakable and the perfect wine glass for a party. Each Wave Fresh Catch stemless acrylic wine glass is 3 1/2" x 4 1/2". Hand washing is recommended.

These glasses are perfect for parties, dinners, by the pool, at the beach, outdoor events and more. BPA free and designed by Kate Nelligan who lives on the coast of Maine and designs from her studio in Kennebunkport
---
Be the first to write a review! You'll receive a 10% discount for writing a review for one of our products after you've purchased it - and an additional 5% off if you share the review on Facebook or Twitter.
Come visit us on Facebook, where you'll find a coupon for 5% off your order!
Piña Colada Frozen Wine Drink Mix
---
Frozen Beverages to Keep You Cool Piña Colada Frozen Wine Drink is a frozen wine slush cocktail mix in a bag. To make a Piña Colada Frozen Wine Drink all you need is ice, wine and a blender and then you can relax and enjoy the sweet blend of pineapple and coconut. Mix the Piña Colada with Sauvignon Blanc, Riesling, your favorite white wine or even rum. You can make non-alcoholic smoothies with fruit juice. The all natural mix contains no additives, preservatives, artificial flavors or colors. Each mix makes approximately 72 oz or two blenders full! DOES NOT CONTAIN ANY ALCOHOL.
Shop our other Wine-A-Rita frozen drink mix flavors here.
Courtney B says "Mixed easily, great flavor."
Thanks Courtney!
---
Good at http://GiftedGrape.com.