Posted by GiftedGrape.com on May 29th 2018
What are the hottest wine accessories for 2017? We've got a list of the trendiest wine accessories for you at GiftedGrape.com. From gadgets to presentation to tasting, we have great choices for you to give as gifts or to stock up your own wine bar. You'll appreciate the style and functionality of these popular best sellers.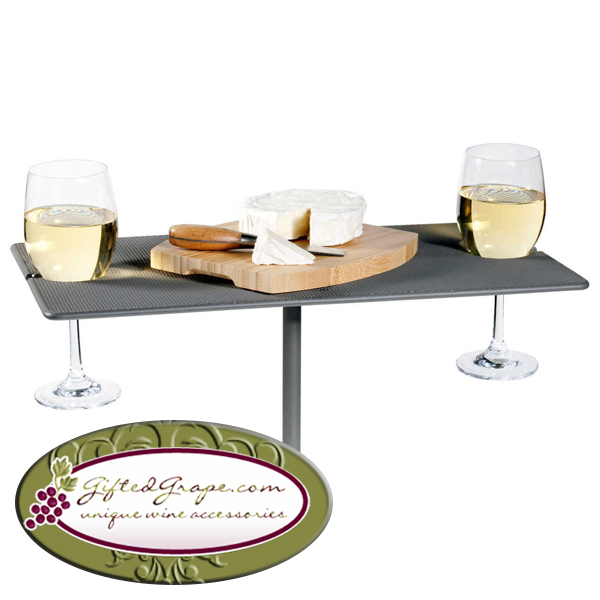 Take this Wine Picnic Table with you on your next outing! Great for fall getaways, this table allows you to safely hold two glasses of wine and a tray of hors d'oeuvres. The wine picnic table collapses for easy storage, so you'll be able to stow it in your vehicle to be ready for any roadside picnic! Table measures 18" x 10" and includes an extension pole allowing two mounting heights, 1.5 or 3 feet high.
Remember...
**FREE Automatic Shipping on all orders $45 and up within the continental US (excluding drop shipped items).
**Standard orders ship within 1 business day.
---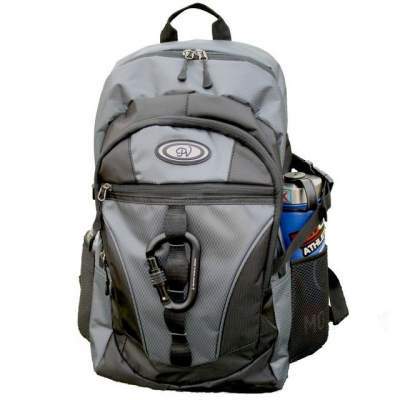 Create your own adventure! Where will you travel today? The PortoVino Wine Backpack is a durable backpack to make every picnic or camping outing more fun with its hidden drink pour spout and party pouch beverage reservoir.
Stay hydrated on weekend backpacking trips, picnics, fairs, baseball games and more. The PortoVino Backpack with Drink Pour Spout is sure to liven up any occasion allowing you to easily transport and serve your beverage of choice.
---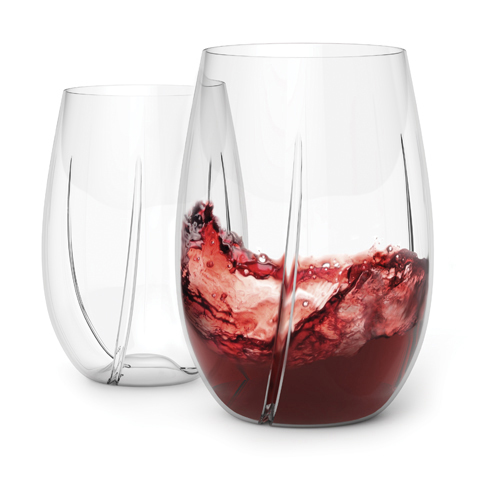 Aerating Wine Glasses are hot right now! This unique set of 2 stemless wine glasses have patented aeration ridges to mix oxygen with the wine improving flavor and reducing sulfites while you drink! Want to aerate your wine even more? Gently swirl the wine in your glass to increase aeration! The Whirl Stemless Aerating Wine Glasses are made of shatterproof plastic and just might be the only glassware you entertain with again! The Aerating Wine Glasses are perfect for any event, picnic, pool party, BBQ, or beach party.
$11.95
---
Follow GiftedGrape.com on Facebook
Come visit us on Facebook, where you'll find a coupon for 5% off your order!
---
Be the first to write a review!
You'll receive a 10% discount for writing a review for one of our products after you've purchased it. Look for the email that invites you to write a review - and another upon completion with your discount code!
---
Oenophilia Drying Rack for Wine Glasses
Fusion Stemware Drying Rack
This stylish rack can be used to simply dry your glassware, or get creative and use it to display! The polished chrome finish has a clean, sleek look and fits contemporary décor. When not in use, the legs of the rack fold away for easy storage. With its striking design and amazing functionality, this drying rack is a perfect tool to aid in cleaning up after a dinner party or wine tasting. The Fusion Stemware Drying Rack is is durable and features a chrome finish, with protective balls on the feet, so it won't scratch your counter.
Dimensions: 11.5" H x 20.5" W x 7.5" D
---
Vinogloww Wine Glass by HighWave
Filled with liquid and placed under a light, the concave base of the Vinogloww Wine Glass creates a unique glow. This 8 oz. stemless wine glass keeps a lower center of gravity, and feels great in your hand. This hand-blown, double-wall borosilicate wine glass will keep your wine at the optimal temperature—no sweat. This wine glass has the ability to go where other wine glasses dare not go… grass, sand or snow or a wild knock down social event. The Vinogloww is top rack dishwasher safe, and comes gift boxed.
---
GiftedGrape.com Wine Accessories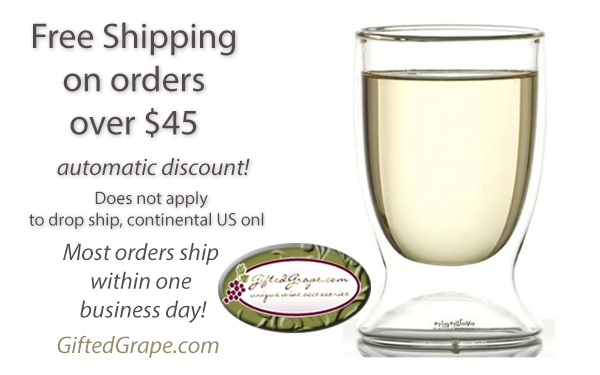 Good at http://GiftedGrape.com.
Free shipping on wine accessories - orders over $45 automatically qualify for free shipping*! Orders ship within 1 business day!
*Does not apply to drop-ship orders. See selected item for details.